Featured Builds
Creative Builds for Kids
It's nice to see how you put all your creativity into building playful and unique theremin instruments for kids. Children love to play with the Theremin and experience the touchless interaction with sound. And I am sure there magic instruments will leave many beautiful memories. Thank you all.
Beautiful theremin built by Dominique Pelletier, Montreal-based Theremin player, chiptune artist, sound designer, scavenger and modder of obsolete toys.
This little lego box theremin was build by Joseph Catanzano together with my kids.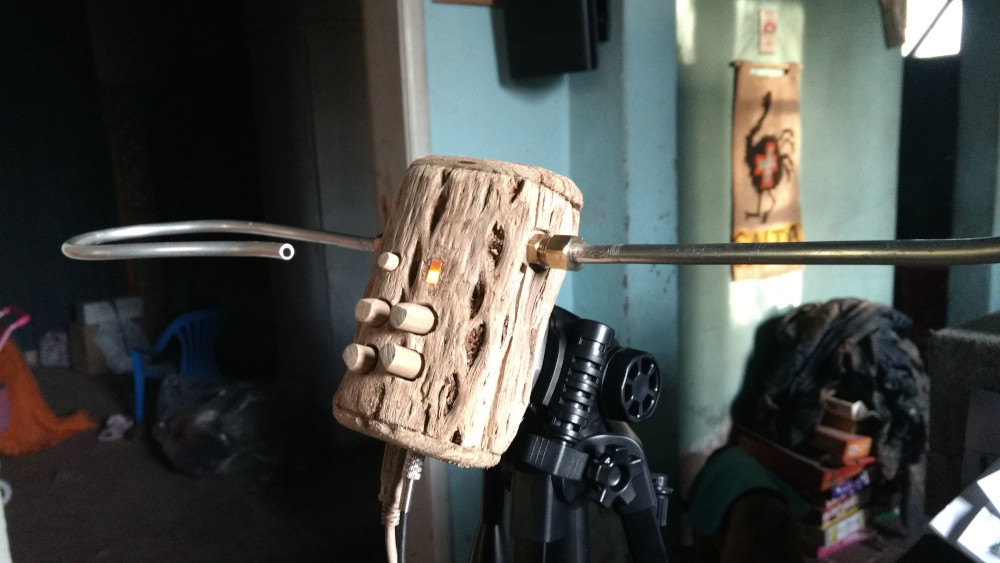 And this is the very special "cardón theremin" sent to me from Argentina by Ángel Alberto Corvalán.

Midi Plug and Stand Adapter
This nice setup picture was sent to me by Richi Seiler. He made a custom front plate and added a microphone stand mount and DIN Midi adapter to his case.

Building the Open Theremin in an box
Here two nice examples on how to put the Open Theremin board in an wooden box and make it a stable instrument and an interesting object.

This theremin was built by Laurent Bryday, he put the circuit in a very old box that her recovered at the bottom of his cellar. Laurent also sent me a french translation of the instruction manual. Thank you for your contributions Laurent.
 
Fabio Scanzani from Italy sent me this theremin that looks like a  little object of the early twentieth century. Thank you.
Open Theremin and Zynthian, the Open Synth Platform
Now that the OpenTheremin has a MIDI implementation I started experimenting with connecting it to MIDI synthesizers and discovered Zynthian, an Open Synth Platform based in Raspberry Pi, Linux and Open Source Synthesizers. It's a lot of fun.

Marc Pitarch sent me this nice picture of him together with Synthian founder Fernando Pereira. Thanks!
Wooden Theremin
László Mánfai from Hungary sent me these pictures of his wonderful wooden theremin that he built from ground up, including electronics. Congratulations László.
Roys Open Theremin Book
Roy P. sent me this funny picture of an Open Theremin housed in a small hardback book, entitled 'The Devil's Music'. And he writes: "Played the Open Theremin in public, jamming with an electronic guitar in a small hot and sweaty club. It went down well.
From Modern to Vintage
Henri Casadei from France sent me the two following pictures that show how different the Open Theremin can be depending on how you build it.
Version "Modern"
La version "vintage"
Cigar-Box-OpenTheremin
I had the pleasure to meet Patrick Kresmer at MAKE in München. He is studding electronics and computer science at the technical university and built the Open.Theremin inside the cigar box from scratch. He also recorded the sound of the Etherwave Theremin from Robert Moog and converted the wave form for the Open.Theremin. Thank you Patrick for the pictures and sounds.
Mothar Mountain Gourd Theremin
Geoff Nicoll from Australia sent me this gorgeous open theremin. He grows gourds and makes funky and classy art from it. The theremin was shown at a woodwork expo and I am sure people liked it. I sure do.
If you want to learn more about Geoffs creation see here: motharmountaingourds.com
Open.Theremin V3 prototype of future past
Nico from Bordeaux, France sent me this wonderful build around Open.Theremin V3 called "mark one". The housing is from a wooden tobacco box (dismantled, sanded and re vernished) and the metal parts are recycled from a deceased folk guitar, dead clockworks from fleamarket, knobs from ooo mixing table an old webcam, and a little piece of pipe filter. All mounted non symmetric to stay in the spirit of "prototype of future past" with screws of different dimensions, but easily opened by turning the 4 corner screws. There's even place inside for a 9v battery. Thanks for sharing Nico and have fun playing it in your band.
Open.Theremin V3 in Italian a red wood case made by Andrei N. Demidenko
This gorgeous case It is made from Italian red wood (exactly from Fazioli piano factory in Sacile) and acrylic. The top cover holds on 8 small neodymium magnets all over the perimeter. The button is made from the same red wood. And yacht lacquer is applied as a protection for the wood. Andrei N. Demidenko is a professional musician, sound engineer and film maker. He is co-authour of a documentary on Lev Sergeevich Termen toghether with his close friend Sergei Zorin.


Laser Theremin by Massimiliano Cavallin
Massimiliano Cavallin, Designer from Torino trained in Ecodesign got cought in "laser frenzy" and built this wonderful, laser cut housing for the Open.Thremin. Thanks for sharing.
Yasushi Yoshida Extended Open.Theremin.UNO
Musician and audio equipement designer Yasushi Yoshida built an amazing Open.Theremin. His built with a half-moon-shaped wood housing and titanium-based alloy antennas are a masterpiece of craftsmanship.
See his detailed build report with pictures and videos on his blog at AudioHologram:
http://audiohologram.sblo.jp/article/80671420.html
or in the tweaking section here
Housings
And here a nice transparent housing by Dietmar Loy.
This is the solid wood box theremin built by Uli Beyenbach. Thanks for sharing.
Nice build by Nicolas Merle. And you can also see him play his theremin here.
Compact and interesting build by Robert Carlberg. Great with a solid stand.
Sleek theremin built by Jost Schenk.
Solid wood housing by Harry Rüter. Whit a digital dial...
Ewald Beekman reworked and printed the 3D printable case for the Open.Theremin. The files for the reworked theremin can be found here. Thanks for sharing.
Professional looking theremin built by Daniel Franzen.
Simple and solid stand by Xavier aka xavierbzh.
Great solution for an Open.Theremin case by System NO3.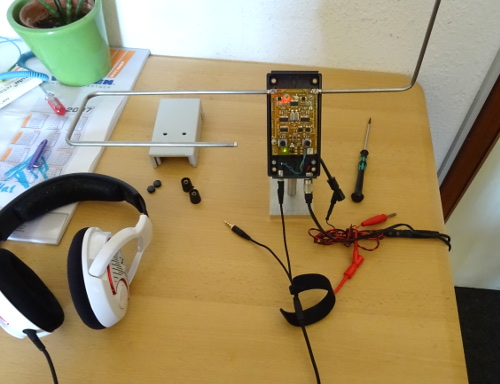 Style and functionality by Tobias aka Super Per.
Nice wood housing shared by COLLECTIF OBC33.
Design studies by Roman Jurt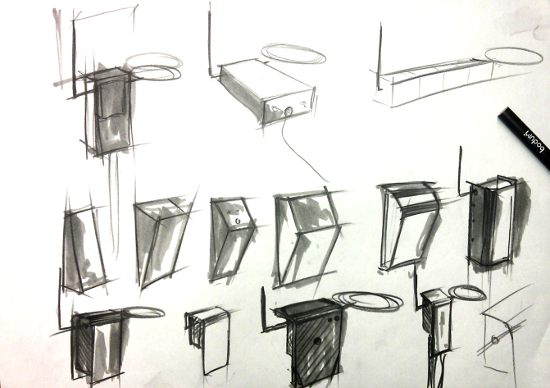 First prototype of the new design - is this it?
Open.Theremin in a cigarette box
The arduino theremin shield fits exactly into a cigarette box.
Open.Theremin.UNO powered UFO Wedding Cake
by Jesper from Reykjavík
Artist and hacker Jesper built this amazing UFO Wedding Cake and connected an open.theremin.UNO to it to make it sound when you aproach it. Have never seen a that futuristic cake. All seem to have had much fun at the wedding and I wish you all the best. Check out the video: http://youtu.be/4Lkk5rkb5LI
Matthias has built this wonderful Open.Theremin.UP

Open.Theremin on plexi base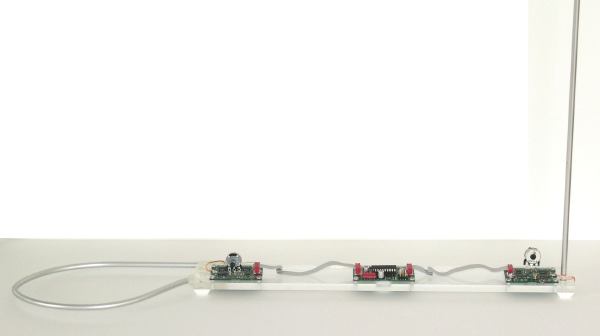 One board Open.Theremin.UP
by Alexander
In a several month work Alexander managed to put the OpenTheremin.UP and the OpenTheremin.LC on a single board by completely redesigning it. It looks so cool and by modifying some "magic" numbers in the code Alexander got it to work. And he has further plans to improve, like putting an ARM mpu, UART, I2S interface and even make it USB powered. Great.
Here is the video that goes with it:
https://www.youtube.com/watch?v=HmHXw7ykMLA
Open.Theremin.RC
Open.Theremin.RC on Breadboard
by Veli