OpenDrop is a new design for an open source digital microfludics platform for research purposes. The device uses recent electro-wetting technology to control small droplets of liquids. Potential applications are lab on a chip devices for automating processes of digital biology. How ever the present design should also open the technology to other field and allow experimentation to find new applications. Including the field of art, music, games and education.
Digital Biology Ecosystem
OpenDrop is a developpement part of a bigger ecosystem around digital biology with the aim of making personal labautomation accessible to more people. See also Bioflux
The design approach chosen relies strongly on Do-It-Your-Self (DIY) and Low-Cost. To aim is to only use standard and widely-available components, materials, and production processes. We try to avoid parts that aren't available to individual customers or processes that require expensive setup costs. Also all design files and software required to operate your hardware are shared under open licenses.
We commit to Best Practices for Open-Source Hardware (OSHWA)
Being a community project grown out of the hackteria.org network and the DIYBio movement we are building on trustful co-operation with all people interested in the project. We also welcome collaboration with existing initiatives and research projects.
We were strongly inspired by the great work of:
Project Overview
The project is developed in parallel on different aspects and disciplines. Technical developments are paralleled by biological application research and community management. Workshops on the technology, on the use of the device as well as on the biological and chemical protocols are planed.
OpenDrop V2
With the experience from the first version of OpenDrop we discussed requirements and improvements for a next step. At a community meeting in the wonderful Rural Hub in Italy we sketched out the design and features.
The design for OpenDrop V2 is implemented and first prototypes were demonstrated at the Digital Biology community meeting in Berlin, January 2016.
CAD Rendering of the OpenDrop V2
Features:
- 2x High Voltage Driver Chip HV507
- 16×8 electrodes array, 2.75mm2 in size
- Arduino Micro
- 4 buttons
- tiny OLED Display
- WIFI module
- fancy LEDs
- Liquid connection ports
- prepared for Peltier Element / Sensors / Pad Heating
- micro USB
- 10×10 cm PCB
- NixiePSU (voltage readable or controllable)
- Design on open source KiCAD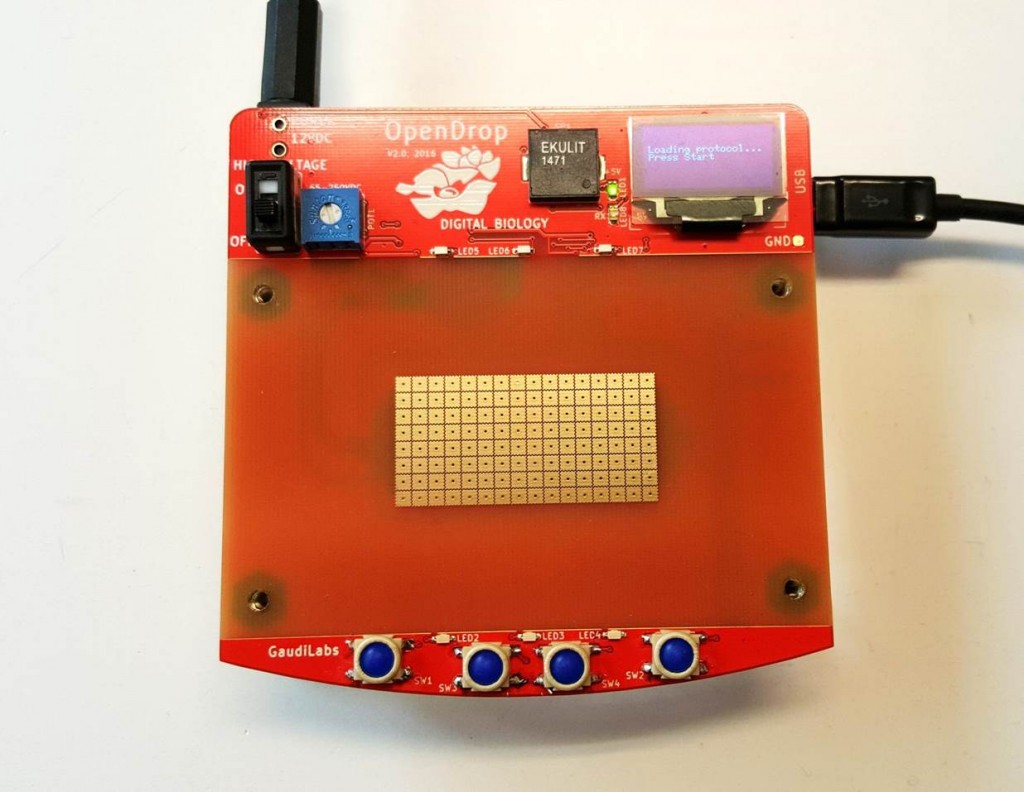 Picture of first OpenDrop V2 prototype.
Backside of OpenDrop V2 with Electronics
Video
Design Files
OpenDrop V2 Schematic Files.

Finished PCB design.
Find all the KiCAD design files in the GitHub repository
 https://github.com/GaudiLabs/OpenDrop
Simple Arduino Object Library and Example code:
http://www.gaudi.ch/GaudiLabs/wp-content/uploads/OpenDropV2Control.zip
Bill of Materials:
http://www.gaudi.ch/GaudiLabs/wp-content/uploads/OpenDropV2_BOM.pdf
The first prototype of the OpenDrop V2 is very promising and the concept with the integrated driver chips and bigger array area were demonstrated. We are now working on producing a small batch to distribute in our research network and continue the research.
The first prototype needs some redesien:
- Add connectors for "sensor extension sields"
- C8 / C11 labeling inverted
- footprint of c6 to smal and to close to the potentiometer
- connect BL pin of HV507 instead of POL
- Joystick istead of buttons
- Buttons to analogue pins with resistor coding
- label Buttons
- reset Button / Main Switch / Softswitch ?
- SO8 too large
- Button Pads to small
- HV Footprint slightly bigger
- Micro Arduino socket colliding with other parts
- indicate direction on D1, footprint too large
- margin for housing
- invert potentiometer direction
- add fiducals
- HV chips in series
- conneting Wifi modul
- HV voltage indicator
- external connector for HV Bus
- add feedback amplifier
OpenDrop Product Preview
Speculative Product Design
Communtiy Meetings
Pictures from the community meeting at Rural Hub in Italy.
OpenDrop V1
After prototyping and testing of current electrowetting techniques to be used in such a low cost and DIY approach a first devices, OpenDrop V1 was designed to prove the concept. The key elements are the fast fabricating printed circuit board, a scalable electronic control and a simple means of coating.
OpenDrop V1
Speculative design for the experimental research unit.
 Electrode Design
Design on a double layer Printed Circuit Board (PCB) including the electrodes. The board is designed as a shield for the popular Arduino electronic prototyping platform.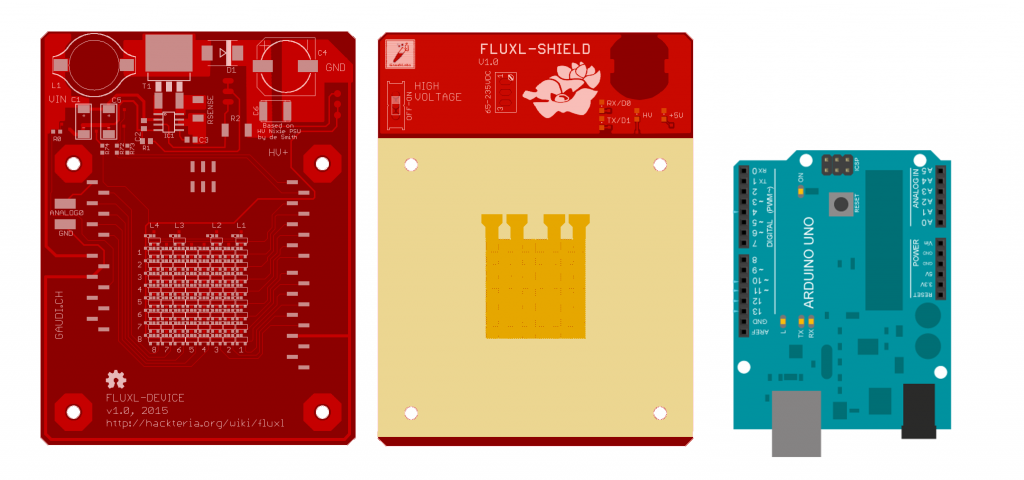 The electrode array is gold coated an contacted to the back with controlling electronics though means of surface mount and through hole technology.
8×8 electrode array with 4 reservoirs.
High Voltage Transistors used: BSS131, Infineon SIPMOS, Logic-Level, PG-SOT-23
Removable Droplet Carrier
Hydrophobic Surface Coating
Key to using the electro-wetting effect for moving droplets is a super hydrophobic and well gliding surface. There are different coating materials on the market for electro-wetting such as Fluoropel, Teflon AF or Cytop. These are amorphousfluoropolymer that can be deposited by spin coating or by dipcoating. For the first experiments with the OpenDrop we just used Polyethylen (PE) kitchen foil (saran wrap) coated with Rain-X a commercially available rain repellent for wind shields. We stretched the foil on a frame of acrylic and applied the Rain-X by blob-coating. It's important for the effect to work that the droplets slide easily on the surface and do not stick to it.
An other method is using PTFE (Teflon) foil and applying a film of silicon oil. See the video by BioFlux on how to do it:
OpenDrop Pictures of Prototype V1
Video:

OpenDrop moving drops

OpenDrop multiple drops
Open Drop running MicroDrop Software
Thanks to our great open collaboration with the DropBot team we can now control the OpenDrop through the MicroDrop software. Ryan and Christian Fobel developed a dedicated driver and code for the arduino to support OpenDrop.

OpenDrop running MicroDrop Software
Get the MicroDrop software and drivers for OpenDrop here: http://microfluidics.utoronto.ca/microdrop
Electronic Circuit
Control of electrodes using a matrix of MosFET transistors on the back of the circuit board.
Integrated power supply to generate the high voltage (230V) needed to address the electro-wetting electrodes. Design based on the design "Nixie HV Switching PSU" by Nick de Smith.
http://desmith.net/NMdS/Electronics/NixiePSU.html
http://www.instructables.com/id/NIXIE-TUBE-DRIVER-MODULES-Part-III-HV-POWER-SUPP/
OpenDrop V1 Design Files

Simple Instruction
BOM (provided by Nathan Saicheck)
Build Instruction for OpenDrop V1
Please consider that the OpeDrop project is still under development and that you need to have good understanding of the circuit and the basic principles to build such a device. Also the electronic boards with SMD components and high-voltage circuits needs advanced skills to prototype. The OpenDrop V1 still has some flaws and needs correction that are described in the following list. We are currently working on OpenDrop V2 that should be more easy to produce and has expanded functionality. If you have questions feel free to ask.
- The array of SMD transistors is quite dense and is best soldered with a reflow soldering process. Also you want to use a stencil to apply the solder paste.
- The source pins of the MosFET transistors are not connected on the current PCB. This would need an extra layer (4 layer design) that we could not afford for this prototype. So you need to solder a wire to all the source pins. (See unrouted wires in eagle board design file)
- The pull-up resistors on the pads need to be 1 MOhm  or bigger to avoid excessive heating
- To always insure a defined state of the gate and source pins of the MosFETs additional pulldown resistors can be added (see picture of prototype board)
- For the high-voltage part be sure to also visit the NixiePSU page
We are also still working on a good dielectric film to be applied to the top of the electrodes. Best results so far we got using Saran Wrap coated with Rain-X.
Here some pictures with details on the build.
First Prototype and DIY Experiments
Layout and Schematics of the first prototype. HV4 connected to hight voltage power supply (235 VDC).
Gates connected to arduino digital pins. G7 is common ground.
Download Proto Design Files (eagle and pdf)
OpenDrop in the wild
Nathan Saichek working for uBiome Inc, the human micro-biome project build this wild OpenDrop V1:

Thank you Nathan for sharing the pictures.
Here is a picture Rüdiger took at a hackaton on EWOD from a wild OpenDrop. Who knows more about it?